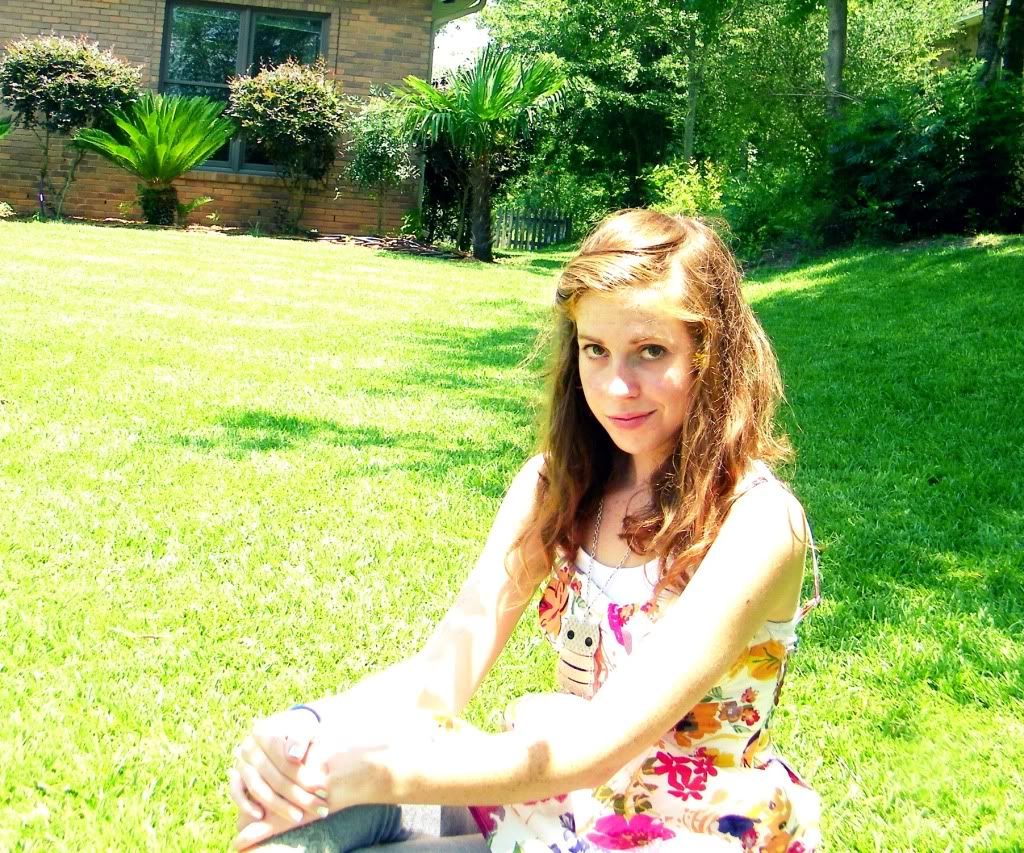 Sorry about the extreme frizziness of my hair...it gets like that sometimes :P

(Outfit: Tank top: Target, Dress: it was given to me, so I don't know where it comes from, Tights: Kohls, Owl necklace: Wet Seal)
Hey girls! How has y'alls summer been going? Mine has been great, VBS is over, and I'm finally able to relax and sleep in! Despite having to wake up early, VBS was really fun, and I'm super glad I participated. On Friday I was able to go to swing dancing with my friends, it was so much fun. I seriously pity all those who don't have a swing dancing "club" to go to...its just that much fun. There are classes for the first hour, then general dancing where anyone can do pretty much whatever they want. It's almost like a youth nightclub, only alot classier. Anyway, it was a total blast.
And today is Father's Day!! Just wanted to send a shout out to my wonderful Daddy, he's great father, husband, and pastor of our little church, and I'm uber proud of him :)
We kiddos got him a Burberry cologne and some chocolate and canoli, and then let him relax and do whatever he wanted all day long, and I think he really enjoyed it :)
Another thing that I wanted to talk to you guys about was that, yesterday, as I was cleaning out my dresser and organizing some of my old papers, I found this sheet of notebook paper, and was written on it really surprised me. On the front of the paper was written a long list of things I didn't like about myself, everything from having crooked teeth and being a procrastinator, to not having a boyfriend and perfectly skinny legs. Then on the back is written a list of truths, first put in my words, then backed up with scripture. Truths like :
I am a work in progress, not yet finished
--(He has made perfect all those who are being made holy, Hebrews 10:14)
He created me to look the way I am, that was his desire
--(You knit me together in my mother's womb, for I know that I am fearfully and wonderfully made, Psalm 139:14)
What I look like on the outside is not of real importance
--(You should be known by the beauty that comes from within, the unfading beauty of a quiet and gentle spirit, 1 Peter 3:4)
So work hard and trust the Lord
--(Those who work hard will prosper and be satisfied, Proverbs 13:4, Trust in the Lord with all your heart, lean not on your own understanding, in all your ways acknowledge him and he will direct your path, Proverbs, 3:5)
I read this, and it was like the spirit preached me a little sermon right there, telling me that even though alot of things have changed since I wrote that paper, those truths have and always will stand firm, and they should be the very cornerstones of my life. Even though I may not have crooked teeth anymore, or my skin is alot better, and Ive just grown up in general doesn't mean that I don't have other things that I don't like about myself that still get me down. My problems may be slightly different by the core issue is still the same, if I forget those truths, and don't remind myself of them daily, its so easy to get caught up in pride, lies, and self disgust again.The same problem, just in a slightly different guise, and I don't want that to happen. I want to stay close to the God who loves me and saved me, and has given me these truths that will never change, no matter what happens in my life, or the world, I can always hold onto them. That's something worth remembering, don't you think? I wanted to share those with you, maybe they'll be as much of an encouragement to you as they were to me.
Have an amazing week!
Love you guys!
Ari <3