Hey guys! I'm sorry that its been five days...again...but this week school has been super swamp-ish this week :) I'm finishing everything up, getting ready for summer which I can completely not wait for!!
What plans do you guys have for summer? I'm going to be helping with my church's VBS, and going to a worldview conference called Summit in either Tennessee or Colorado..it lasts for two weeks, and its going to be full of students my age and I am so pumped about that!!
I've alwasy been interested in different world views and how to stay grounded in my own...ways to defend my faith and stuff like that, so I'm looking forward to the conference alot :)
So...
I have a confession to make.
I got a Netflix app on my itouch and I got totally addicted to The Office, to Parks and Recreation, and to Dropdeaddiva.
Yeah...it's not good. I never knew how hilarious TV shows could be. My horizons have been greatly expanded :P
It's kind of sad, but I don't have too much to talk about. My life has basically been school, work, organizing my room, reading some much cherished library books (because I hardly ever get to go there) and watching Netflix on my itouch...so my life hasn't exactly been super exciting, but there have been a few things I'm really trying to work on.
One thing was definitely organization, and the other was time management...one book that I really like is: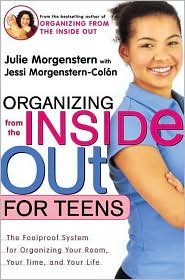 It's really helpful and fun to read too. It helped me see that I'm organized in some areas, like my books an d my magazines and my journals and stuff, but that I'm disorganized in other areas, like putting things away after I get them out.
So I'm trying to get that part of my life straightened out and it feels really good!
And you know what else feels awesome? Laughing hysterically at the office as Jim and Pam do something diabolical to mess with Dwight's mind :)
I'm sorry its not totally thrilling, and I promise I will be posting again soon :)
Have a great week!!
Love,\
Ari